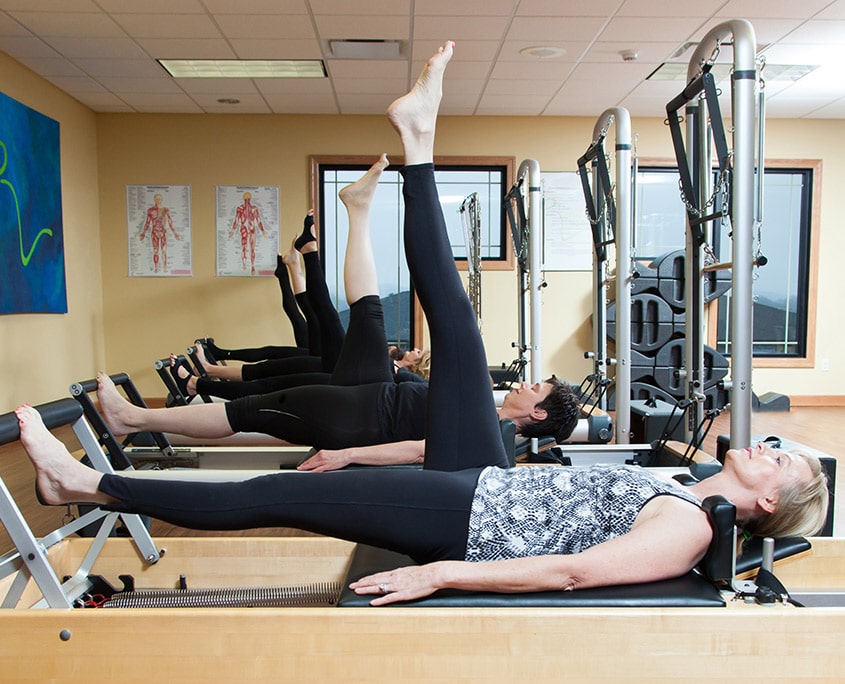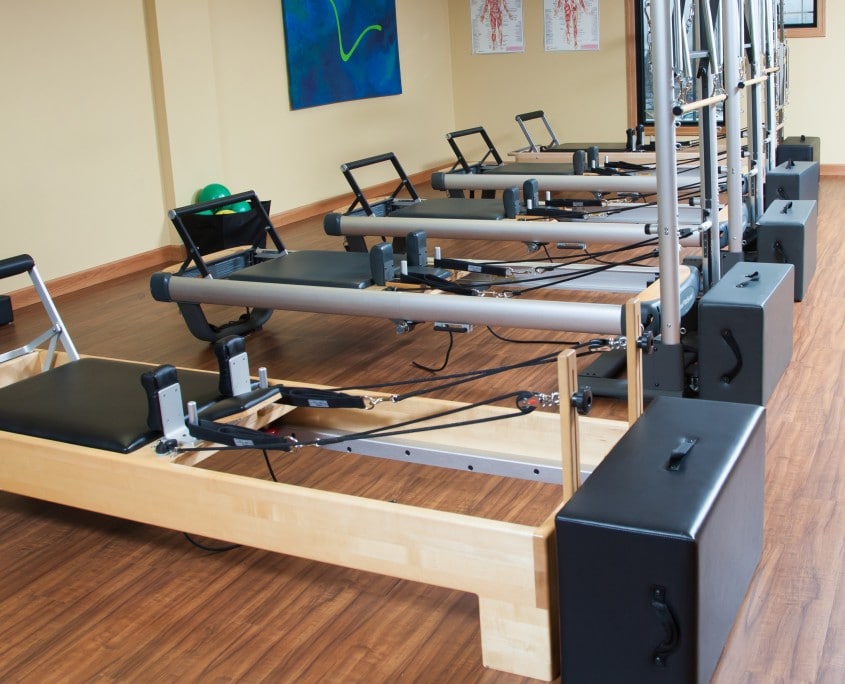 Our studio is a fully equipped classic studio with six Reformers, a Cadillac, three Combination Chairs, and a Ladder Barrel. The studio offers one-on-one training and duo sessions, as well as mat, Reformer and Demi-Bar Pilates classes.
The studio also features a Power Plate, and a CoreAlign. These pieces of equipment nicely complement the Pilates work and help us to meet our clients' individual needs.
PRIOR AUTHORIZATION IS REQUIRED TO JOIN ANY EQUIPMENT CLASS. PLEASE CALL THE STUDIO FOR PERMISSION.
Consultation
Consultations are for the client who has never done Pilates before, or perhaps has done mat classes in the past but has never tried the equipment. During the consultation you will meet your trainer and be introduced to the equipment, as well as going over the basics of Pilates technique.
55 minute session, $60.00
Private Session
Working one-on-one with a trainer on the equipment. Individualized to your needs and goals.
50 minute session, one private $60.00, 8 privates $440.00
Master Trainer, one private $70.00, 8 privates $520.00
Duo Session
Two people working with a trainer on the equipment. More personalized than a reformer class.
50 minute session, $40.00 per person or 8 sessions for $280.00
Reformer Class
This is a group class done exclusively on the reformer. Must have permission from a trainer prior to attending a class.
50 minutes class, $35.00 per class or 8 classes $240.00
Mat Class
Classic Pilates fundamental exercises enhanced with small props. This class is kept to a maximum of 10 people. Due to the small class size, if you are not a regular member of class and would like to attend, please call first to make sure there is room.
45 minute class, $12.00 per class
OUR 24 HOUR CANCELLATION POLICY IS STRICTLY ENFORCED
PROPER ATTIRE
Please come to classes or sessions wearing proper Pilates attire. You will want clothing that you can move freely in and clothing that will not get caught on the equipment.  Clothing that is fitted is preferred over baggy sweatpants and t-shirts. Fitted clothing will aid you in your workout as well as help your trainer correct your form. Also please make sure you clothing covers all your parts. Shorts and especially loose-fitting shorts are not appropriate due to the various leg movements in Pilates. For men, please wear fitting bike shorts under your loose fitting sports shorts. Pilates is typically done barefoot, however you may wear socks if you prefer. All clients working on the Pilates equipment are required to wear sticky socks/Toesox for their safety. You can bring your own socks in or we have them for purchase at the studio.