PSC TEACHER TRAINING PROGRAM AT THE PILATES STUDIO LLC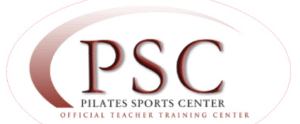 Become a fully certified Pilates Instructor with our 450+ hour training program. Pilates Sports Center teacher training program offers not only one of the most profoundly effective exercise systems ever developed, but gives special emphasis to the extensive rehabilitative aspects of the work of Joseph H. Pilates. The Pilates Sports Center Teacher Training Program ("PSC") offers a comprehensive Pilates instructor educational program that provides the student with both the classic work as well as modern modifications to make you a highly qualified and sought after instructor.
This 450 + hour program comprehensive course includes:
A fully photographic Manual will be provided to you for the course or module(s) you will attend.
Fundamental Pilates principles and philosophies
Client assessment and alignment protocol
Anatomy and biomechanics taught using visual aids in an interactive environment
Pilates Mat Repertoire
Reformer Repertoire
Cadillac/Trapeze Table Repertoire
Wunda/Combo Chair Repertoire
Pilates Props skills utilizing the jump board, magic circle, rotating discs, balance/wobble board, foam rollers, thera bands and balls
Combining Classical and Progressive
Pilates styles with modifications and variations
Creative training and program development skills for any level of proficiency
Medical anatomical terminology
Verbal and tactile cueing skills
Attitude, confidence and composure of a professional instructor
Studio etiquette and equipment safety
Ethics and scope of practice
Understanding indications and contraindications for specific injuries/dysfunctions and special circumstances
15+ Hours of review of all material
No delayed modules, no extra testing fees, no levels, no delay in your education
No required PSC Continuing Education Workshops for graduates – all optional
*Upon completion of the Comprehensive course and a separate weekend Barrels workshop the student will have all the criteria to text for the PMA exam if they choose.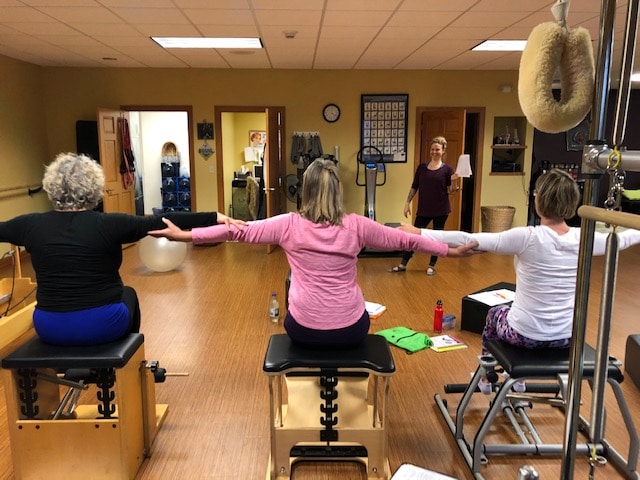 TUITION
Comprehensive Program: $5,200.00 minus $500 deposit
Payment can be made up front on the first day of class or in three installments with an additional $100.00 finance fee.
OR We Also Offer our Program as Modular Courses:
Fundamentals & Philosophy – $300
Pilates Mat – $1050 (Deposit of $100)
Reformer – $2100 (Deposit of $100)
Cadillac – $1050 (Deposit of $100)
Chair – $1040 (Deposit of $100)
Completion of a Barrels module is required for graduate's eligibility to apply for the PMA Exam.
Fundamentals is a prerequisite for the Mat module.
Fundamentals and Mat are a prerequisite for any of the equipment modules.
OR Private Courses:
$8,800 (Deposit of $500) – Choose your own schedule and get private tutoring with undivided attention through the course and work at your own pace to accomplish a Comprehensive or … Modular options, please inquire!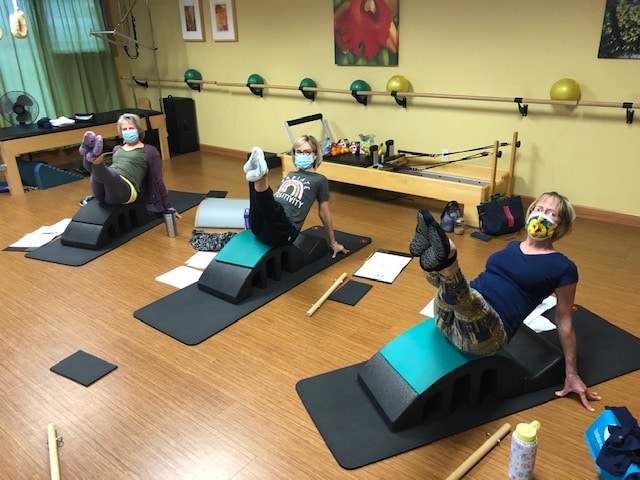 PILATES TRANSITION / BRIDGE PROGRAM
Should you wish to review, are missing some apparatus, or were unsatisfied with your education elsewhere, PSC offers a "Bridge Program." The program can accomplish two things:
An instructor with incomplete education may add a PSC module to improve your skills, earning power and add to your credentials.
An instructor with an education that was unsatisfactory in any way, may wish to "re-educate" thru PSC in a comprehensive or modular program. *We offer a 50% discount to any instructor who wishes to re-educate with us. Discount offered only on any previously accomplished portion a program (Mat Pilates already taken? The Pilates Studio will offer Mat Pilates at 50% off) Proof of previous education required via copy of a Diploma, Certificate of Completion or Letter from the School) 3. Only graduates of a Comprehensive Program (Pilates Mat / Reformer / Cadillac/ Chair and an additional Barrels weekend workshop) will meet the criteria for, and be prepared to take, the PMA Certification Exam™
Requirements to Transition/Bridge with PSC
Application
$500.00 Non-Refundable Deposit
PSC's Fundamentals / Philosophy ("Nuts & Bolts") Program
Supply a certificate of completion as proof of previous education
A Mat certificate of completion, required prior to any PSC Apparatus module
Once prior education is verified, you will be admitted to PSC's Bridge Program.
Once admitted to a program, all requirements will apply as outlined in this brochure to obtain a Certificate of Completion.
Spring Schedule
March 1st-June 21st:
Fundamentals: March 1,2
Mat: March 8,10,15,17,22,24
Reformer: March 29, 31 April 5, 7, 12, 14, 19, 21, 26, 28 May 3,4
Cadillac: May 10,12,17,19
Chair: May 24,26 June 2,7,9
Review and Written Exam: June 14,16
Practical Exam: June 21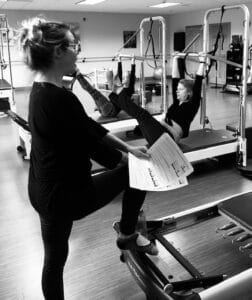 Meet with a Master Trainer
Prospective students must have a high school diploma or equivalency diploma to be accepted for enrollment.
30+ documented hours of well-rounded Pilates instruction with a qualified Pilates instructor before the start of the first day of class.. (PSC Host Studio will offer a student discount to any student for three months prior to the first day of class and after they make their $500.00 deposit.)
A completed application and deposit.
Personal liability insurance to practice teacher in your host studio. (Insurance cost is very minimal and will be discussed on the first day of class.)
*No Applicant will be denied on the basis of race, national origin, color, creed, religion, sex, age, disability, gender identity, gender expression, sexual orientation, medical condition (cancer related), ancestry, marital status, citizenship, or status as a veteran or special disabled veteran.
The classroom course is 16 weeks, 8 hours a week plus any observation, practice teaching, or any other of the required hours you may want to fulfill during that time. After the 16 week classroom intensive and testing you then have 6 months to complete the rest of your course required hours.
PSC teacher training is a comprehensive Pilates program that integrates both the classic Joseph Pilates repertoire as well as modern techniques, modifications, and variations for each exercise. The PSC program has 136+ classroom hours to offer you the student the best support throughout your educational journey. Along with the Pilates repertoire you will also be learning the fundamentals and philosophy of Pilates as well as anatomy to better help you understand and digest the Pilates method. We have trained in many methods throughout the country and truly find PSC to be the best!
450-Hour Course includes:
30 hours of documented Pilates experience prior to course
136 hours of classroom experience with PSC Master Trainers
75 hours of Observation of a Certified Instructor
100 hours of Practice Teaching with classmates/friends/family
40 hours of Self Integration (continued Pilates experience)
45 hours Client Assessment and Programming Project (assignment)
15 hours Pilates video/DVD observation
Passing scores on tests, practical exams and projects
Pilates Sports Center was founded in 2000 by Kelli Altounian and Dr. Andromeda Stevens, D.C. PSC offers not only one of the most profoundly effective exercise systems ever developed, but gives special emphasis to the extensive rehabilitative aspects of the work of Joseph H. Pilates. PSC's teacher training programs mission is to provide an education in the work of Joseph Pilates with the highest quality of instruction to create the most successful and capable Pilates teacher possible.
Yes, you will be qualified to teach Pilates anywhere in the world. Also, after the completion of the comprehensive course and the additional weekend Barrels workshop you will also be prepared to take the PMA exam if you choose.
The Pilates Studios owners and Master Trainers, Heather Happel and Heather Froh will team teach the courses. The two have over 30 plus years combined in Pilates training and education.
The full program is $5200.00 minus the $500.00 deposit.
Will work with you on payment if necessary*
Yes, just a few.
You will be responsible to purchase personal liability insurance no later then the first day day of the Mat module. The cost to students in very minimum ($25.00). We can recommend companies on the first day of class.
For your 40 hours of self integration we will offer a student discount of $10.00 off the package price of classes and privates.
Lastly there is a $10.00 studio rental fee charged every time you bring in an outside person (not in your PSC teacher training course) to train for your practice teaching. This cost should be passed onto the client that you bring in.